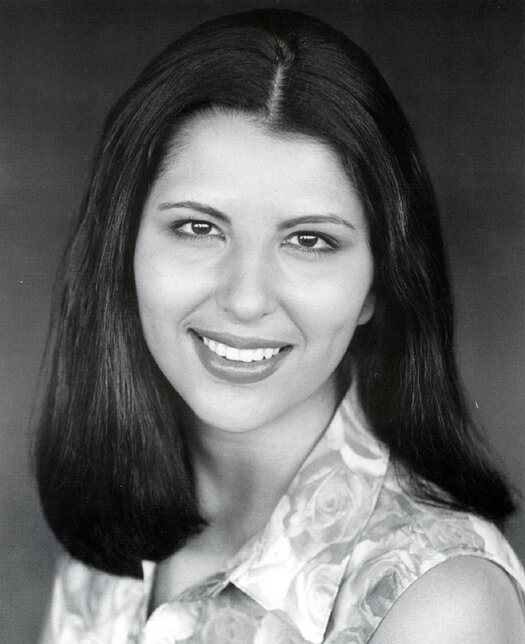 When Nayeli Guzman strode into Laurita Moore's faculty office several years ago, Moore felt an immediate connection to the spunky 15-year-old.
The reason soon became clear: their lives have followed a similar, often tortuous, path. Peering into Nayeli's deep, intelligent brown eyes, the South Mountain Community College teacher detected uncanny strength and determination -- and a little vulnerability. Moore's thoughts flashed back to her own youth. She too, had come to America from Mexico needing a helping hand and direction for her abilities.
Nayeli merely hoped to meet someone who could help her obtain financial aid for the college classes she wanted to take.
The teen couldn't have imagined the lengths to which the South Mountain Community College teacher -- soon, all at the college -- would go.
"Students come to me for help all the time but when Nayeli appeared in my office it was different," recalls Moore, faculty in computer information and Spanish.

The bright, plucky teen -- who had never lived in an English-speaking home -- proceeded to test into college level math and English courses at SMCC, and began applying for scholarships.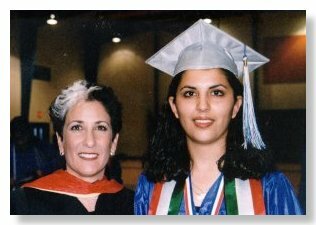 All of which led nowhere because the young woman lacked a social security card and, more importantly, legal resident status. It turned out that, when age five, Nayeli had been slipped illegally into the United States from Mexico by relatives. Once in the U.S., she moved from relative to relative. Nayeli's biological mother had remained in Mexico due to a long illness and passed away when her daughter was only nine.
In just 10 years, she attended six different schools. Finally weary of the moves -- and needing a challenge -- Nayeli set her sights on college.
"I took her to an immigration attorney to find out what could be done," recalls Moore. It wasn't long before Laurita adopted Nayeli and the two became family.
Having helped raise two stepsons, Moore was keenly aware of the turbulence that sometimes accompanies life with teenagers. However, she gratefully embraced a judge's decision to award her custody of this unusual girl. "I have never been sorry. She is, truly, my daughter," notes Moore.
THRIVING IN THE FACE OF ADVERSITY
"Nayeli is a model of children who thrive in the face of adversity," says this mother-teacher who saw herself reflected in the teen's determination to succeed.
Moore was only 17 herself when she left Mexico City -- penniless -- to attend the University of Arizona.
"Because I had not established residency in Arizona I couldn't get financial aid and I wasn't eligible for scholarships. I was hungry, lonely and lost that first year," she recalls.
But things changed dramatically the following summer. While working at a Mexico City hotel, Moore took reservations from two Tucson women. One was the executive secretary to the president of the University of Arizona, the other the executive secretary to the dean of finance.
"I never had a problem with scholarships after that," she laughs.
NAYELI BECOMES A LEADER
Within months of moving into her new mother's home, Nayeli's academic and leadership abilities began to flourish. She became an honor student at SMCC, student body vice-president, and she initiated a campus relief project to help Hondurans affected by Hurricane Mitch. The teen donated more than 80 hours to community service projects. Her intelligence, beauty, talent and exceptional bilingual skills enabled Nayeli to produce helpful public service announcements, in Spanish, for radio and television. The tenacious youth has reaped the benefits of the many hours in study, she says. "But I couldn't have succeeded without the encouragement and support of so many people at the college. Every day I am grateful for their interest and their kindness – and for the education."
Barely 17, she graduated from SMCC last year with honors and enrolled at Grand Canyon University. She is entering her senior year, studying education. Upon graduation, Nayeli plans to pursue her interests in international business at Thunderbird Graduate School for International Management.
'THE MOTHER FIGURE I NEVER HAD'
"I had the privilege of watching her change into a wise, beautiful, dynamic young woman with an incredible personality," says Moore, who is quick to deflect any credit.
"It takes a village to raise a child and, in this case, there are many wonderful teachers who contributed significantly to Nayeli's academic and personal development. I did the formal adoption but we all raised her. Almost everyone at SMCC had a part," she says.
Still it is Moore the teenager wanted to emulate.
"She became the mother figure I never had," says Nayeli. "She corrected my negative actions and gave me a better and new ethical foundation. I have been tremendously influenced by her success and motivation. I look up to her as a role model, mother, friend, and teacher, who out of nowhere opened her home to me."