CADENA

Comite de Apoyo para el Desarrollo Estudiantil de la Nacion Americana
Committee for the Support and Development of the American Nation's Students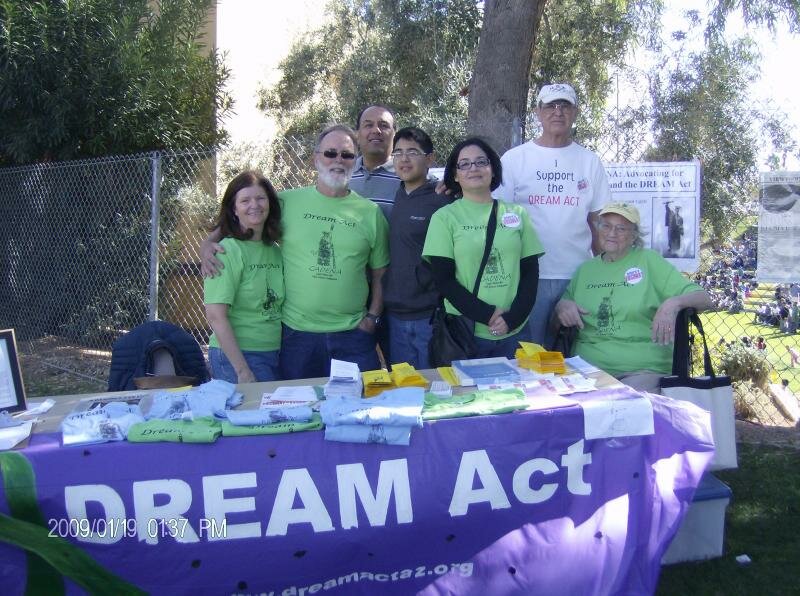 CADENA members at the 2009 MLK Festival in Mesa, Arizona.
We are CADENA an Arizona based group of professionals, educators, students and concerned citizens who advocate for the passage of the Dream Act in the US Congress.
We network with other humanitarian groups in Arizona as well as nationwide.

Our focus is solely the passage of the Dream Act and support the undocumented students in Arizona. We educate the public from all ethnic backgrounds, social status and creeds on the importance of the Dream Act. We work with students writing a reaction paper and educating them on their rights as well as helping them in organizing to advocate for the passage of this legislation.
Mission:
Educate the community about the DREAM ACT and encourage all voters to contact their senators and representatives in Congress in support of the DREAM ACT.
As individuals CADENA members work on:
Presenting the need for the DREAM Act legislation to Arizona's Congressional Delegation.

Networking with students to provide information about private scholarships and the procedures required to apply for entrance to post-secondary education's institutions in Arizona.

Providing students and teachers with the pamphlet KNOW YOUR RIGHTS, STOP THE SILENCE and diverse DREAM act literature.

Assisting any student who may be arrested and placed in jail or immigration detention (a land based phone that accepts collect calls is necessary.)

Helping students who are scheduled to be deported with deportation plans.

Support for the families of students being deported or are in trouble due their immigration status (VIRGINIA, JOE )

Being present in court in support of students who are in immigration court and subject to deportation.

Supporting the activities of groups where students excel and are examples of the talents the DREAM act students provide to our communities (FALCON ROBOTICS, GATEWAY Early College High School, etc.)

Supporting of projects that educate the community of the situation of the students and the need for the passage of the DREAM ACT (Documented DREAMs, James Garcia's DREAM Act Play, Virginia's DREAM etc).

Gaining presence on the media with positive stories about the students and the DREAM locally, nationally, internationally.

Encouraging the creation of foundations and other scholarship resources for undocumented students

08/04/08